BIRMINGHAM AIRPORT (BHX) INFORMATION
Origin
Airline
Flight no.
Scheduled
Est./Actual
Status
No flight arrivals were found at Birmingham Airport.
Destination
Airline
Flight no.
Scheduled
Est./Actual
Status
No flight departures were found at Birmingham Airport.
Car Hire at Birmingham Airport
UNBEATABLE VALUE CAR RENTAL
Free Amendments | Free Cancellations | No Card Fees




Birmingham Airport - All Information on Birmingham Airport (BHX) Birmingham Airport
Airport Way, Birmingham, B26 3QJ, Great Britain
phone +44(0)870 733 5511
phone+44 (0)330 2230893 (Lost + Found)
emailContact Form
emailbirmingham@luggage-point.co.uk (Lost+Found)
call_end+44(0)121 782 8802 (fax)
Facts and History about Birmingham Airport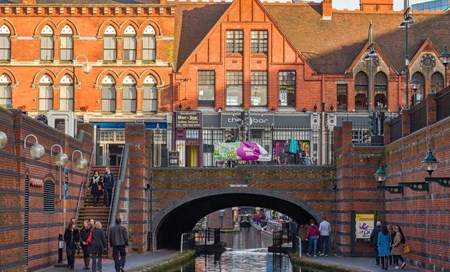 Birmingham Airport is located approximately 10 km, or 6.3 miles from the city center. It is in the area of Bickenhill, which falls under the Metropolitan Borough of Solihull. The Metropolitan Borough of Solihull is located in the West Midlands region of England. The airport has the National Exhibition Center on its eastern side, and Marston Green to the north. Sheldon is also located nearby, to the west. The airport has the official IATA code of BHX, and ICAO code of EGBB, and was formerly known as Birmingham International , however, due to a new marketing plan, management decided to drop the 'International' part of the name. Birmingham Airport currently handles around 12.5 million passengers per year.
There are a number of airline companies serving Birmingham Airport. Flybe is an important airline, as it operates the majority of flights, but Ryanair is the airline that transports the majority of passengers. Birmingham Airport is a base for the airlines of Ryanair, Flybe, Bmibaby, Monarch Airlines, Thomson Airways and BMI. Some of Flybe's flights include the destinations of Aberdeen, Edinburgh, Frankfurt, Glasgow-International, Hamburg, Milan-Malpensa and Paris-Charles de Gaulle, while Ryanair offers flights to Alicante, Dublin, Gran Canaria, Malta, Malaga, Tenerife-South and Girona. The destinations of Pisa, Turin, Verona, Toulouse, Naples and Corfu are served by seasonal flights from Thomson Airways, while their main destinations also include Orlando-Sanford, Montego Bay-Sangster, Malta and Palma de Mallorca. Other airline services in operation include Aer Lingus, Air France, Brussels Airlines, Continental Airlines, KLM, Lufthansa, Swiss International Airlines and Travel Service.
The history of Birmingham airport began in 1928 when it was decided that a municipal airfield was needed in the area. When it finally opened in July 1939, it was known as Elmdon Airport, due to the site on which it was built. The Royal Navy and the RAF, as well as a base used the facilities as an Elementary Flying School during World War II for the Fleet Air Arm. During the War, the grass runway was replaced with two new hard runways. Civilian usage returned in July 1946. A second terminal building was opened in 1961 for international traffic, and was therefore named as 'The International Building'. The main runway was also extended. By 1984 the original terminal buildings were irrelevant, as a brand new terminal able to handle three million passengers was opened, giving rise to the new Birmingham International Airport. Today the old terminal and control tower are sill on the site, and used for aviation related offices.
1991 marked the opening of Birmingham Airport's second terminal building, which was named Eurohub. This terminal doubled the capacity of the airport. Further upgrades and improvements were made between 2000 and 2010, including a new customs and immigration hall, new retail outlets, a new baggage reclaim area and arrivals concourse, a new pier with three air bridges and new check-in desks. The two terminal buildings were also linked for the first time. The old Maglev Rapid Transit system, which ran between the airport and Birmingham International railway station, was also replaced by the AirRail Link people mover, a first of its kind in the world to be used at an airport. A new 'International Pier' was constructed and operational towards the end of September 2009, and was used for the first time by the Airbus A380. Aside from the Airbus A380's flights at Heathrow, this was the first commercial A380 flight in the UK.
The airport has recently merged its two terminal buildings into one, hoping that this will improve the flow of passengers and efficiency levels. All passengers will now depart from a new combined security area, and arriving passengers will enter into a single meeting and greeting area. The full transition of the merge will be completed towards July 2011. Shopping opportunities and catering facilities have also been improved on both the landside and airside sections.
'Towards 2030' is BHX's master plan for development, which includes an extension to the runway (it is the only airport in the UK to have been granted consent for such work) to a length of 3,000 meters, with a starter strip adding a further 150 meters to the runway. A third terminal is planned to be completed by 2012, while a new railway station called the Birmingham Interchange is expected to be operational by 2026. This will be built on the High Speed Two railway line, on the far side of the M42 motorway.
Birmingham Airport is fully capable of handling disabled passengers and offers all passengers many high quality facilities to assist their time. There are information points within the terminal for further enquiries, and the Visitor's Center in the arrivals area for all information regarding local attractions, events, accommodation reservations and onward travel.
When arriving you may want to rent a car and you can find a selection of the car hire companies at Birmingham Airport in the Arrivals hall or nearby. Please be sure to bring a valid driving license if you intend to hire a vehicle. With so much choice of car rental at Birmingham airport it may be wise to book online before you arrive as there is limited choice of vehicles at certain times of the year.
Arrivals and Departures at Birmingham Airport
Hotels near Birmingham Airport
There are a number of hotels to suit all budgets and requirements at or near Birmingham Airport.
Parking at Birmingham Airport
See options for parking services at Birmingham Airport.
Additional Services and Amenities at Birmingham Airport
At Birmingham Airport you will find the usual array of bars and restaurants, airport lounges and shops.
Things to do in Birmingham
There are a number of activities to suit all ages and interests in the region - see a selection of tourist activities in Birmingham in the United Kingdom.
Services at Birmingham Airport
Useful Information about Birmingham Airport